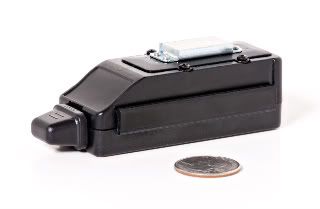 GPS Tracking Key Features:
1. GPS Data Recorded Every Second
2. No Installation Required
3. Compact Water-Resistant Housing
4. Records Addresses Arrived/Departed
5. Documents Speeds Driven & Maximum Daily Speed
6. Easy Outside Placement With Magnet Mount
7. NO SERVICE FEES
The Most Popular Selling GPS Tracker In The World!
The GPS is the most widely-used passive tracking system by consumers, businesses, and law enforcement. Only requiring two AAA batteries, the GPS Tracking Key records driving information every second that includes vehicle speed driven, stops made, and more. The GPS Tracking Key has NO cumbersome wires, download cables, or external antennas, making it one of the simplest passive tracking systems to command. Users need only to:
1. Place the GPS Tracking Key inside or outside of the vehicle they wish to track.
2. Let the GPS Tracking Key record a driver and the driving activity.
3. Remove the GPS Tracking Key from the vehicle, download the driving data, and see everywhere the driver went!
Using The GPS Tracking Key Is That Simple!
GPS Tracking Key has provided the truth to parents who have teenage drivers, law enforcement agencies, people in relationships suspecting infidelity, and small businesses with mobile resources.
Five Reasons Why The GPS Tracking Key Is The Solution For You!
01
The GPS Tracking Key Is The Most Economical And Reliable GPS Tracking System On The Market Today!
For less than $200, or the annual price of a gym membership, you will receive all of the answers of the unknown driving habits of your teen, employees, and more. GPS tracking technology has never been so affordable.
What makes this vehicle tracking unit special compared to the real-time tracking systems on the market is that this GPS tracking unit requires NO ACTIVATION FEES or NO MOTHLY SERVICE FEES of any kind forever.This is because the micro car tracking unit is a GPS receiver, not a transmitting device that is dependant on cellular service!
02
There Are No Monthly Service Fees Or Contracts With The GPS Tracking Key!
Real-time GPS monitoring systems require users to pay a monthly service in order to access vehicle tracking information, and some GPS companies even require users to sign a one (1) or two (2) year service contract. Using the GPS Tracking Key involves NO FEES or NO CONTRACTS of any kind! Consumers and businesses looking to receive exceptional and accurate GPS tracking data at a bargain price need to look no further than the GPS Tracking Key.
03
The GPS Tracking Key Offers Multiple Methods Of Viewing GPS Tracking Data.
GPS Tracking Key users have the unique opportunity and option to view GPS tracking data over either a
Digital Street Map Program : Where users can playback historical records of a vehicle's travels.
Detailed Reporting Program: That provides every stop a driver made, and all the travel history in a text/report.
Google Earth Satellite Image Program : A free program, Google Earth will display travel data over satellite imagery, allowing users to see exactly what parking space a driver parked in, or what color the house was they stayed at overnight.
04
The GPS Tracking Key Works Anywhere In The World!
The GPS Tracking Key logs data and receives GPS information from the network of satellites orbiting the Earth. Since the GPS Tracking Key does not transmit or transfer data, it can record positions anywhere on the globe! The GPS Tracking Key will work in any location even if no Internet, cellular or radio service is present.
05
The GPS Tracking Key Is Easy To Use!
Place the GPS Tracking Key on a vehicle, remove it and download the data when you want to view where any driver has been!
Easier to use than a cell-phone or iPod, the GPS Tracking Key only requires a coulpe of AA batteries to be powered, and a personal copmuter to download the data to for review. The GPS Tracking Key has no on/off switch because innovative engineers designed a motion sensor that automatically powers the tracking system up when a vehicle begins to move and power downs the tracking system after 2.5 minutes of holding a stationary position. The motion sensor helps retain battery life, allowing GPS Tracking Key users to record an average of 37 hours of vehicle-in-motion driving time, or approximately 3-4 weeks of driving data on a single lithium battery life cycle (High-grade AAA batteries).
**NOTE** Car tracking unit software is currently not compatible with MAC systems at this time, but we are working on it!
Daily Driving Summary Records Mileage Driven, Exact Locations Arrived/Departed, Max Speed & More! (Click On Text Report Image For Full View)
GPS Tracking Applications:
Teen Tracking, Vehicle Tracking, Employee Tracking, Law Enforcement Tracking, Spouse Tracking, Covert Tracking, Free Tracking.